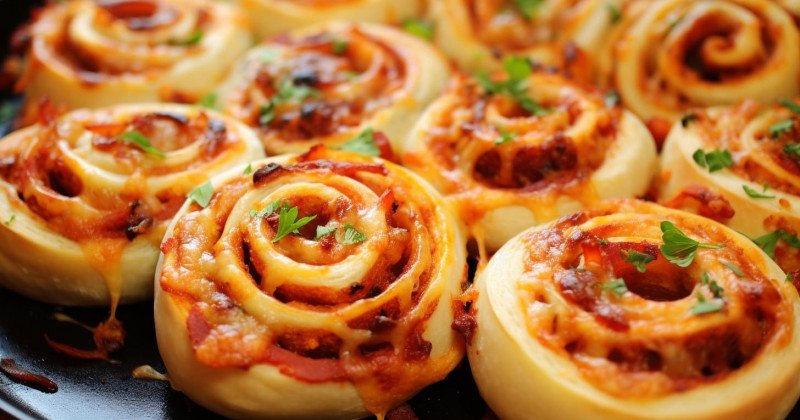 What are pizza scrolls?
Pizza scrolls are a variation of pizza where the toppings and cheese are rolled up inside the dough, creating a spiral or scroll-like shape. They are typically made by spreading sauce, cheese, and various toppings onto a sheet of rolled-out dough, which is then rolled tightly into a log shape. The log is then sliced into individual portions and baked until the dough is cooked and the cheese is melted and bubbly.
Pizza scrolls are a convenient and portable way to enjoy the flavors of pizza. They can be served as appetizers, snacks, or even as a main dish. The fillings can be customized to include your favorite pizza toppings such as pepperoni, mushrooms, bell peppers, onions, olives, or any other ingredients you enjoy. They are often seasoned with herbs and spices like oregano, basil, or garlic powder to enhance the pizza flavor.
These tasty treats are great for parties, picnics, or lunchboxes. They can be enjoyed warm or at room temperature, making them versatile and easy to serve. Pizza scrolls are loved by both children and adults and are a fun twist on traditional pizza.
How to make pizza scrolls?
Pizza scrolls are delicious and easy to make. Here's a simple recipe to help you make your own pizza scrolls:
Ingredients:
2 ½ cups all-purpose flour
2 teaspoons baking powder
½ teaspoon salt
1 cup warm water
2 tablespoons olive oil
½ cup tomato sauce or pizza sauce
1 ½ cups shredded mozzarella cheese
½ cup sliced pepperoni or other toppings of your choice
1 teaspoon dried oregano
Optional: additional toppings like diced bell peppers, onions, mushrooms, etc.
Instructions:
Preheat your oven to 400°F (200°C). Line a baking sheet with parchment paper or grease it lightly.
In a large bowl, whisk together the flour, baking powder, and salt. Gradually add warm water and olive oil to the mixture, stirring until a soft dough forms.
Transfer the dough onto a lightly floured surface and knead it for a few minutes until it becomes smooth and elastic. If the dough is sticky, you can add a little more flour as needed.
Roll out the dough into a rectangular shape, about ¼ inch (0.6 cm) thick. It should be large enough to spread the toppings evenly.
Spread the tomato sauce or pizza sauce evenly over the dough, leaving a small border around the edges.
Sprinkle the shredded mozzarella cheese evenly over the sauce. Add the sliced pepperoni or your chosen toppings, and sprinkle dried oregano on top.
Starting from one of the long edges, tightly roll up the dough into a log shape. Pinch the seam to seal it.
Using a sharp knife, cut the log into slices, about 1 to 1 ½ inches (2.5 to 3.8 cm) thick. Place the slices on the prepared baking sheet, leaving a little space between them.
Bake the pizza scrolls in the preheated oven for 15-20 minutes, or until they turn golden brown and the cheese is melted and bubbly.
Once baked, remove the pizza scrolls from the oven and let them cool slightly before serving. They can be enjoyed warm or at room temperature.
Pizza scrolls are great for snacking, appetizers, or even lunch. Feel free to customize the toppings according to your preferences. Enjoy your homemade pizza scrolls!